On 15 March 2011, one of the worst humanitarian crises in recent history broke out. The Syrian conflict has since driven millions of families to flee in the hope of finding some security. In the host countries, Terre des hommes' teams are working with parents and communities to ensure that children grow up in the best possible conditions. 
"I was four years old when I left Syria. I remember my street and a small market where we used to buy things. I also remember the tank that was parked near our house and that we used to hide from." At the age of 12, Bakr recalls the handful of memories he has of his homeland, Syria. His sparkling green eyes and big smile contrast with his tragic story. Eight years ago, his family left everything behind to escape the civil war that was ravaging the country. "We were living in Homs, but we were afraid for our survival. We fled while they were bombing the area," says Asmaa, his mother. 
2021 marks 10 years of war in Syria. The conflict that began in 2011 has since become the "worst man-made disaster since the Second World War" according to the UN. The numbers are staggering: hundreds of thousands of victims, 6,2 million people displaced within the country, and 5.6 million refugees. 99.4% of these refugees have found refuge in five countries: Turkey, Lebanon, Jordan, Iraq and Egypt. It was to Egypt that the family of Bakr fled. He, his parents and his two brothers, Talal, 11, and Adam, 4, now live in a tiny 60-square-metre flat in a neighbourhood an hour north-west from central Cairo.
The gratitude of having escaped the worst is combined with the nostalgia and sadness of being far from home and loved ones. "In Egypt, we are safe, we can have a stable life. When we arrived from Syria, people were nice and welcomed us. But I wish my grandparents, my cousins and my aunts and uncles could be with us," Bakr continues. His mother adds: "It was very hard at first. We didn't know anyone, we had financial difficulties and couldn't find accommodation. The children were very young and asked a lot of questions". In addition to the violence and destruction it causes, war separates entire families and erases all the bearings of those who flee. 
"When you arrive in a new country, it is difficult to integrate, even if the culture and traditions are close to your own," says Inas Bashar Mardini, a social facilitator in Egypt and a Syrian refugee herself. "As adults, we also find it difficult to adapt, because we came here by obligation, not by choice. Parents transfer this to their children without realising it." This is particularly harmful for children, as it can cause psychological distress and affect their behaviour in the long term. 
The importance of mental health 
In Egypt, part of Terre des hommes' work targets the psychological support of children and young people. As in several countries in the Middle East and Europe, our protection specialists develop activity programmes to accompany refugee children according to their needs and age. To facilitate integration and create links, these activities are open to all, whether Syrian refugees, other nationalities, or children from local Egyptian communities.
"At first, Bakr was reluctant to participate in activities and did not get along with children of other nationalities. To work on this, I chose exercises that required cooperation with others. Over time, his attitude changed completely. He started to mingle with Egyptian children. Now he cares about his classmates when they are away and never hesitates to help out. He has become a boy who loves life," says Inas. 
"Here we learn a lot of things through very simple activities. My favourite thing is that the activities keep everyone entertained. They make children happy, when some children don't have anyone to make them happy," says Bakr. 
The activities Inas uses combine mobility exercises, games and psychological support in a dedicated room in a local health centre. They are accompanied by a moment of reflection and discussion and allow children and young people to develop their ability to express themselves, to identify their emotions and to understand those of others, "It helps children build character, because there are parents who never talk about feelings with their children," she says.
"These activities are especially important for children who are in a foreign country. It has really helped my children, both for their education and their psychological state. It helps them release and channel their energy," adds Bakr's mother Asmaa. 
Working with parents 
Working with the child's relatives is one of the keys to meeting their needs. "We can't help children without helping their parents. They need to be able to go to school, to grow up safely, but all this is not possible if the parents live in a financially insecure situation," says Meilaa Khateeb, child protection specialist in Jordan. 
"In Irbid, I followed a family of five, two parents and three daughters aged 7, 3 and 1. They had no financial income and lived in a tiny, cold house. The father had psychological problems and violent behaviour towards his wife. The mother was suffering from depression. The eldest girl did not attend school and had no choice but work to earn money to survive. They only had light clothes to spend the winter." During Meilaa's first visit, the mother and the eldest daughter were able to open up and cried a lot. The 7-year-old joined our psychosocial activities. "We referred the father to a psychiatrist and the mother to a support group. That's when we found out that she was very good at making cheese and other dairy products. We offered her financial assistance so that she could start her small business and have an income for the family. Now their situation is stable. They have changed house, the husband receives the necessary treatment and the eldest daughter stopped working and has been able to go back to school."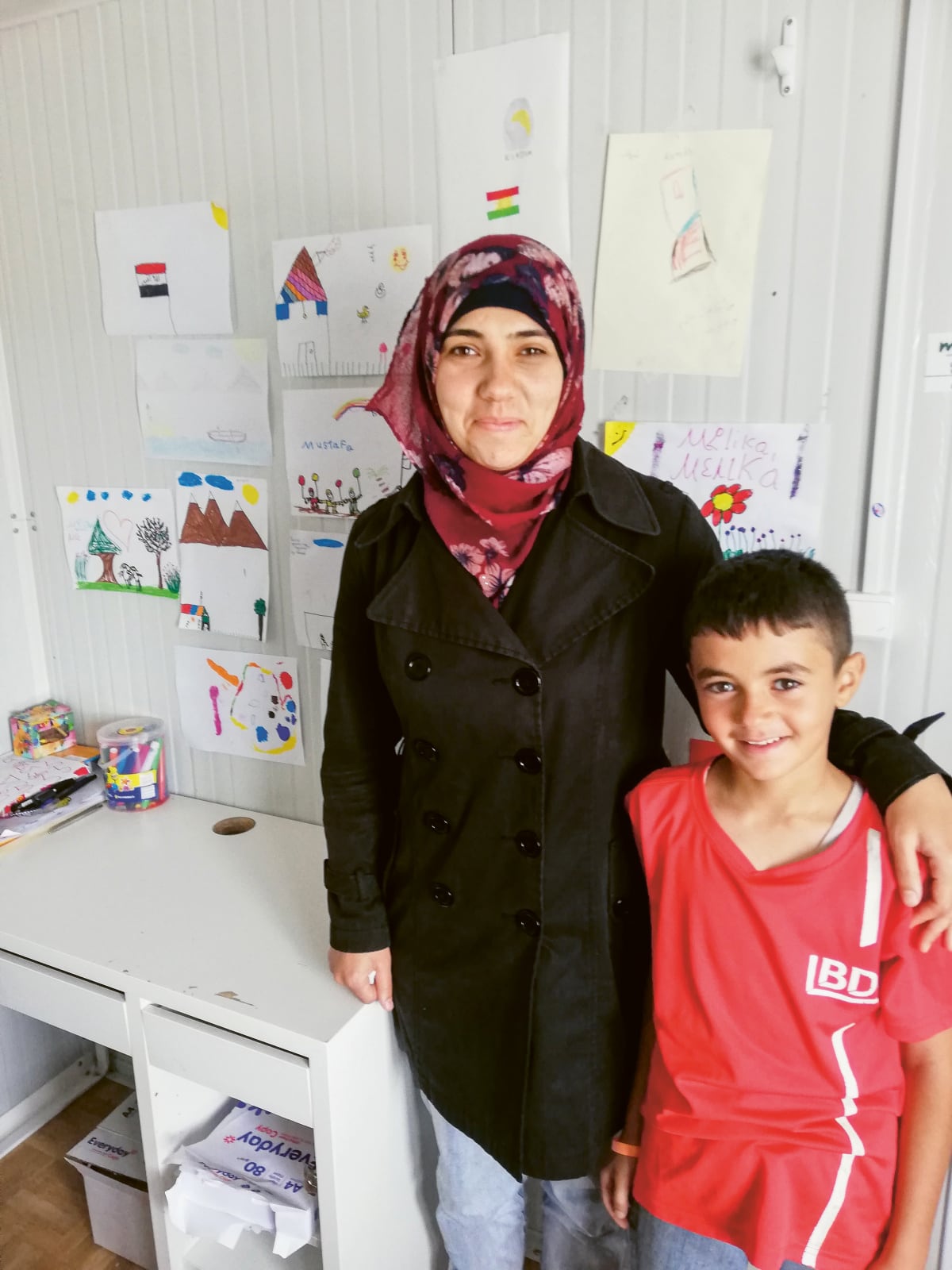 lives with her children in a refugee camp near Athens, Greece
"The road from Syria to Greece wasn't easy for us"
Covid-19, an additional challenge 
The Covid-19 pandemic has added a layer of complexity for both refugee families and organisations like Terre des hommes that support them. "Many refugees were sick, especially in the camps. The containers they are housed in are very close to each other and it is almost impossible to maintain physical distances. This increases the anxiety and fears even more," adds Meilaa. Our teams are constantly innovating to adapt activities and continue to offer support while minimising the health risks to the children and staff.
For Bakr's family too, Covid-19 jeopardises the fragile balance they had managed to find. Asmaa, the mother, explains: "My husband struggles to find work and we are having financial difficulties again. I have to keep the children at home." Our social workers, including Inas, have to find solutions so that Bakr and his brothers can continue to receive the support they need remotely. As the family doesn't have a computer, we are setting up activities that can be explained by video and then sent by message. 
Since 15 March 2011, the war in Syria has been undermining the rights and very existence of an entire generation of children. In ten years, almost one million Syrian children have been born as refugees and have only known their country of origin through the stories of their families. "Even if there is a war, Syrians have rights. But I think it will end soon and everything will be better than before, and we will be able to go back," Bakr concludes. In the meantime, his mother tells him about Syria, about Homs, their neighbourhood and their family. "What gives me hope is that I haven't lost my children during the war and that I can see them grow up", Asmaa whispers, lovingly looking at her son.
FROM EMERGENCY AID TO TODAY 
Just after war broke out in 2011, we mobilised to bring humanitarian aid to families who had just arrived in Egypt, Jordan, Lebanon, Iraq, Greece and the Balkans, in camps or host communities, or on migration routes. This generally involves basic necessities and emergency psychological support. 
Over time and as the conflict evolves, the needs of children and families change and new issues emerge. In collaboration with local partners, our teams work with refugee children and families and host communities to uphold children's rights. Together, we fight against the negative impacts of this humanitarian crisis on them, like poverty, violence, child exploitation, early marriage, or school drop-out. Tdh is also building the capacities of local organisations, community members and the authorities for sustainable improvement.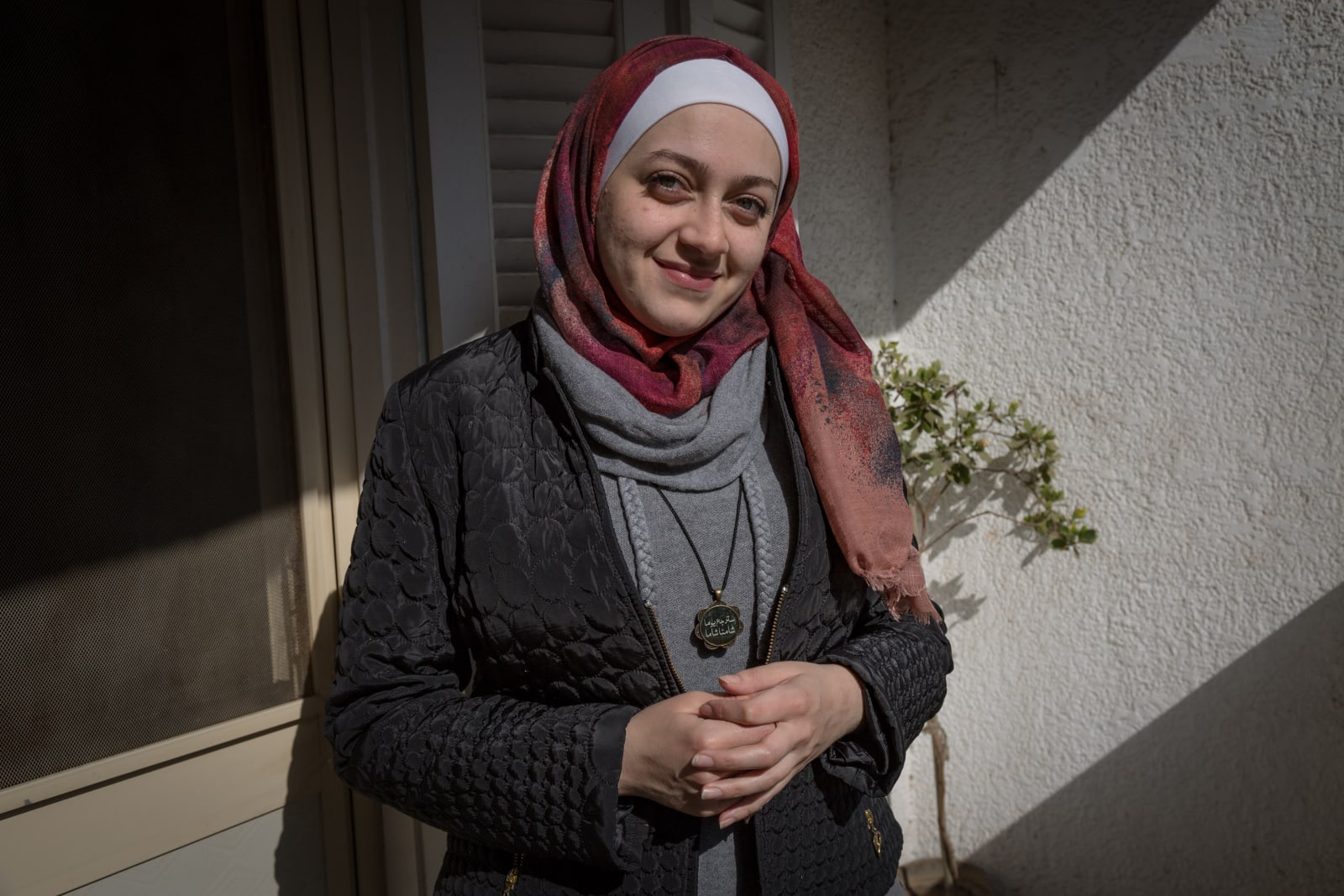 a young Syrian refugee who volunteered for Terre des hommes' projects in Egypt
"What worries young Syrians like me the most are the struggles with education and the lack of opportunities."