In Afghanistan, 100,000 women give birth every month, often in very precarious conditions. Since the Taliban came to power in August, health services have been drastically reduced, doctors are leaving the country and medicines are in short supply. Many women can no longer afford to go to hospital and have to give birth at home.
"The pains started at night. I thought my delivery was not going to go well because I was very weak." Nooria* sits cross-legged with dignity, her one-and-a-half-month-old daughter asleep in her arms. Soft light streams through the small window draped with embroidered curtains. The sky blue walls and the cushions covering the floor create a soft atmosphere. Nooria lives in this 12-square-metre room with her three children and her husband. The other two rooms in the old house belong to the families of her brother-in-law and father-in-law. They all share one small bathroom. 
We are on the outskirts of Kabul, Afghanistan. The Taliban have been in power since August. "The situation is getting worse every day," says Nooria. "There is no work, we can't afford food or clothes." According to the United Nations Development Programme, 97% of the Afghan population is at risk of falling below the poverty line if the country's political and economic crises are not addressed soon.
When care is no longer accessibles 
"The whole health system is affected. Even before the Taliban came, the situation was not ideal. But now it's even worse. Most of the doctors have left. There is no more medicine. The costs of treatment are very high", explains Dr. Noorkhanum Ahmadzai, midwife and head of the Terre des hommes (Tdh) mother and child health project in Afghanistan. Yet every month, 100,000 women continue to give birth. "But maternity wards only let in emergency cases and no longer accept women whose delivery is considered normal. So home births are on the rise."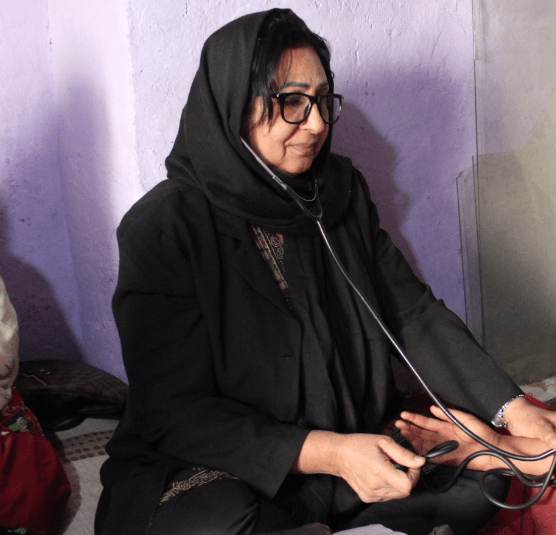 "We feel the danger. But we have no choice, we have to keep on doing our job."
Nooria gave birth at home. "I couldn't go to the hospital because I can't afford it. I called the midwife in the morning. She came to the house with medicine. She helped me, and my delivery went well." The midwife in question is Khadija*. For more than 20 years, she has been working with Tdh in Afghanistan to accompany women at home who cannot go to hospital during their pregnancy and childbirth. She chose this path because both her grandmothers died in childbirth.
The courage of midwives 
"We follow women and babies from the 12th week of pregnancy until six months after delivery. We do routine check-ups for blood pressure, pulse and anaemia," says Khadija. This is done according to the World Health Organization's protocol. "We also teach them how to take care of a baby, how to eat well and how to take care of their health and that of their child. We show them the rules of hygiene, we prepare them for childbirth, and we talk to them about breastfeeding."
A unique approach 
"99% of the people we help cannot read or write, have no work or education and live in extreme poverty. The first time we meet them, the women are sometimes not even able to introduce themselves, because they are suffering so much psychologically. After several visits and discussions, they gradually manage to express their own feelings. How can you expect a woman to take care of her child if she can't even take care of her own health? Unfortunately, this situation is getting worse since the arrival of the Taliban," adds Dr. Noorkhanum Ahmadzai.
"Our midwives go door to door to introduce themselves and ask if there are any pregnant or breastfeeding women," continues Dr. Noorkhanum. Nooria says: "When Khadija came to my house, I knew immediately who she was. She had already helped my mother-in-law give birth years ago." Terre des hommes' approach is unique in the region. Instead of working in hospitals or health centres, our medical teams are mobile and go to where people live. For most women, this is the only support they receive.
Read the full report here.
*The names have been changed for security reasons.
Crédit photo: ©Tdh