In Burkina Faso, the gold industry accounts for almost 10% of GDP. Alongside the industrial sites, hundreds of gold mines are exploited in an artisanal manner by the local population. Driven by poverty, children leave school to work in conditions that endanger their health and safety.
A stifling heat envelops the gold mine where Hamidou* works. In this desert landscape littered with holes, some rudimentary equipment is scattered on the ground, a tired donkey pulls a cart. "When we dig the holes, we have to use dynamite to explode the rock. The work is hard. You can spend four years on a site like this working before you find a single gold nugget," says Hamidou, 17.
Like him, there are about 20,000 children working in the hundreds of artisanal gold mines in Burkina Faso. For the majority, it is the only way to earn a few pennies to survive. "If I didn't do this job, it would be difficult for me to eat every day," says Zalissa*, 16, who works on the same site.
These mines are not officially regulated by the state and child labour is not controlled. Working conditions are extremely difficult and safety measures are non-existent. Children are involved in all stages of the mining process, which is done entirely by hand, putting their health and sometimes their lives at risk. Some, like Hamidou, dig holes in the ground up to 80m deep and pull up the pieces of rock. "I use a rope to go down. The device is made of wood. Sometimes it breaks and you can fall," he explains. Rockfalls are frequent.
Once up, the rocks must be loaded onto carts and then crushed and washed to extract the gold. "In this process, children breathe dust and use dangerous chemicals such as mercury. This causes respiratory diseases and skin problems," says Birba Wendsongo, assistant to the coordinator of the child protection programme in Burkina Faso.
A warning system
Since 2009, the Terre des hommes teams have been present in four informal mines in the Ganzourgou province. On these gold extraction sites, the living conditions are terrible. Many children are victims of violence and exploitation.
To identify these children at risk, we have developed a digital alert system. This tablet-based tool allows case workers - people from the community whom we have trained - to assess their situation and put them in touch with the hospital, social services or the police. "Case workers walk through the mines. As soon as they see or hear about a child in a difficult situation, they meet and talk with him or her. They register them in their tablets. An SMS containing information about the child and his or her situation is then sent directly to the social services and all other actors who take the necessary steps. In some cases, this starts with helping the child to obtain a birth certificate or other official papers that will allow him or her to go to school, for example," says Julienne Wanre Ouedraogo, who is responsible for the project. This work is done hand in hand with the community so that the effects are sustainable.
In parallel, our teams meet with the operators of the mines to raise awareness of the specific needs and rights of children. "In several mines, we have negotiated with employers not to assign the most dangerous activities to children, such as going down into the holes to dig and pull up the rock," says Julienne Wanre Ouedraogo. "Now they are more involved in cooking or selling water that they fetch from the well. It's not ideal, but it's already much less dangerous."
Training for the future
Most of the children who work in the mines have never been to school or left school early. It is mainly the lack of money that pushes families to send their children to work. Because when it comes to survival, education is no longer the priority. "I stopped going to school because my parents needed me to work," explains young Hamidou.
Our teams accompany these children so that they can reintegrate into the school system. Tdh pays the school fees and provides them with school materials. When returning to school is not possible, we offer the children an adapted training in "second chance schools". "In addition to the normal school curriculum, we organise literacy courses and develop their digital skills," explains Klena Abdoulaye Traoré, project manager. In addition to these remedial courses, we organise vocational training and provide a FabLab (Fabrication Laboratory) so that young people can develop useful skills for their future.
The Tdh centre is a 15-minute bike ride from the mine where Zalissa and Hamidou work. Several rooms are built around a central courtyard covered by a roof. Each room accommodates about twenty children of all ages. In one of them, a majority of girls are practising using a computer. Further on, farming techniques are taught using very simple means: a plastic bottle, a cap and a pipe can already be used to create an irrigation system for growing a vegetable garden. Another group is learning how to set up and use a 3D printer that allows children to produce objects they have modelled, including office equipment such as pencil holders and rulers.
"All children are welcome here. We take the time to talk to them, to see what they like and what they want to do, and then to guide them towards a course that suits them," says Klena Abdoulaye Traoré. "It's a springboard to their professional integration."
About 400 children have already been able to follow these courses. Among them, Hamidou regularly visits the Tdh centre. "Since I've been coming here, I'm less often at the mine site." His father says: "When you have a child, your concern is that he has a good future. It comforts me that he is being trained because I know that he is learning and that he will have a promising future." Hamidou confirms, smiling and determined to change his future: "When I finish my training, I can stop working as a gold digger. I would like to start my own electronics company."
*To respect their privacy, the names have been changed.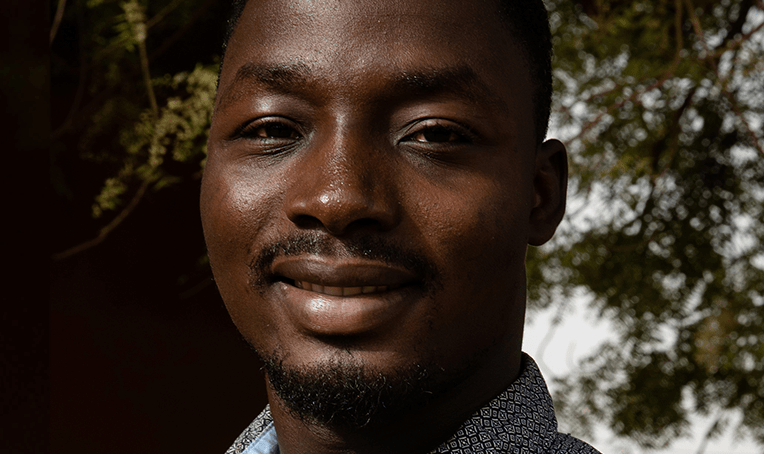 "Working with children has opened my mind."