It is a permanent source of anxiety, which prevents Aïssata from projecting herself into the future. "My main concern is that we manage to eat properly and that my children are healthy," says this mother of five with a worried look on her face. She smiles, but her expression is strained. Her family is one of those supported by Terre des hommes projects in the Boucle du Mouhoun, a region that has been very destabilised by the prevailing insecurity in Burkina Faso. She has received food: rice, beans, infant flour, oil and sugar. "This is a great relief for us," says Aïssata.
Her family's story alone illustrates the challenges faced by a growing part of the population of this Sahelian country of 22 million people. A few months ago, Aïssata and her family were still living peacefully in Gomboro, in the north of the Boucle du Mouhoun. But the outbreak of armed violence in their village forced them to flee more than 150 km south to Cari, a town near Dédougou, the region's capital.
"Burkina Faso is experiencing an unprecedented humanitarian crisis." 
Salifou Ouedraogo, coordinator of the Terre des hommes emergency programme in Burkina Faso says. "It is primarily the result of the security crisis that affects the daily lives of more than 70% of Burkinabè. The armed attacks that are destabilising the regions of the East, the Sahel, the Centre-North, the North and the Boucle du Mouhoun are forcing people to seek refuge in safer areas, mainly in the regional capitals," he explains.
In addition to the security situation, there are the repercussions of climate change. They are severely affecting Burkina Faso, altering water resources and degrading agricultural yields, a sector that occupies more than 80% of the population. "Over the past two summers, Burkina Faso, like other Sahelian countries, has experienced a drought that has drastically reduced national production, as well as access to water and feed for livestock. Households that derive their income from farming and livestock activities are losing their savings," Salifou says. 
Coping with food insecurity
The lack of food and the lack of diversity in the foods that make up meals have led to an upsurge in food insecurity, and with it a worrying increase in cases of malnutrition. Children, like Aïssata's daughter Safiatou, are the first victims.
In response to the food crisis, Tdh is concentrating its humanitarian activities in areas destabilised by the influx of displaced people. No distinction is made between uprooted households and host communities. Families are supported with distributions of basic necessities and, to remedy the disappearance of state social services, or to reinforce them where they are still present, nutritional support and medical care are also provided.
Beyond this emergency response, Tdh is also implementing a programme dedicated to food security and livelihoods. The most vulnerable families receive assistance in the form of food and cash transfers or coupons that can be used in local shops.
 "Cash and vouchers have the advantage of being more empowering for families, who buy what they need themselves" 
says José. These cash transfers are also intended to be reinvested in entrepreneurial micro-projects that will enable families to generate more sustainable resources and thus increase their resilience.
With your donation, we can for example
provide seeds and tools for vulnerable households to grow their own food
provide nutritional and medical treatment to a malnourished child
provide emergency food to a family for a month
Some villages are difficult to reach in winter due to flooded roads. Tdh organises sessions in the community for mothers and pregnant women on the prevention of malnutrition. On this day, many of them are gathered in the village square. Claudine, a smiling thirty-year-old, has four children. She says: "I have learned a lot in these awareness-raising activities: how to prepare porridge for Barsabasse, my nine-month-old baby, or to use an insect-treated mosquito net to protect my children from malaria. In addition to these activities, a community field has been created, where we learn some farming techniques. I really appreciate these activities." Other achievements have helped to improve the lives of the locals, in particular the digging of a borehole that provides access to drinking water and allows the irrigation of vegetable gardens.
Breastfeeding issues 
To get out of dependence and to take the family's destiny in hand: this is precisely the wish expressed by Azèta, a mother from Baraboulé, in the Sahel region. She and her family now live in Ouahigouya, the capital of the northern region, following repeated incursions by armed groups into their village and threats of kidnapping. Since then, twins, two balls of energy in checked jumpers, were born in their home. "When I had my babies, I had problems breastfeeding," says Azèta. "That's when I heard about the NGO Terre des hommes, which helps mothers and their children." Azèta then went to the consultation at the Tdh advanced health post. "They treated me free of charge. I received information on breastfeeding. Afterwards, a Tdh team came to visit us and brought us food, hygiene materials, baby nappies and soap, as well as a sum of money." 
Her husband, Issouf, recalls:  
"This help was a great relief. My family was happy. I could see my wife gaining weight and I was pleased!" 
He laughs. But he concedes that the balance of the household has not yet been fully restored. Issouf is still looking for work and, even with help, his family still lacks cooking utensils or firewood to prepare meals and light the house at night.
"Because you always feel good at home" 
"Thanks to our actions, people are able to cope with this situation," says Issaka Koanda, who is responsible for community mobilisation in Ouahigouya. "But it should be noted that their needs are considerable. Emergency donations can help them enormously." Azèta's husband Issouf, leaning against a wall of ochre earth, is dreaming. His children, sitting on a mat, are gathered around him. "I would like peace to return to my country so that we can go back to our village, because it is always good to be home. But I keep asking myself the question: 'When?'"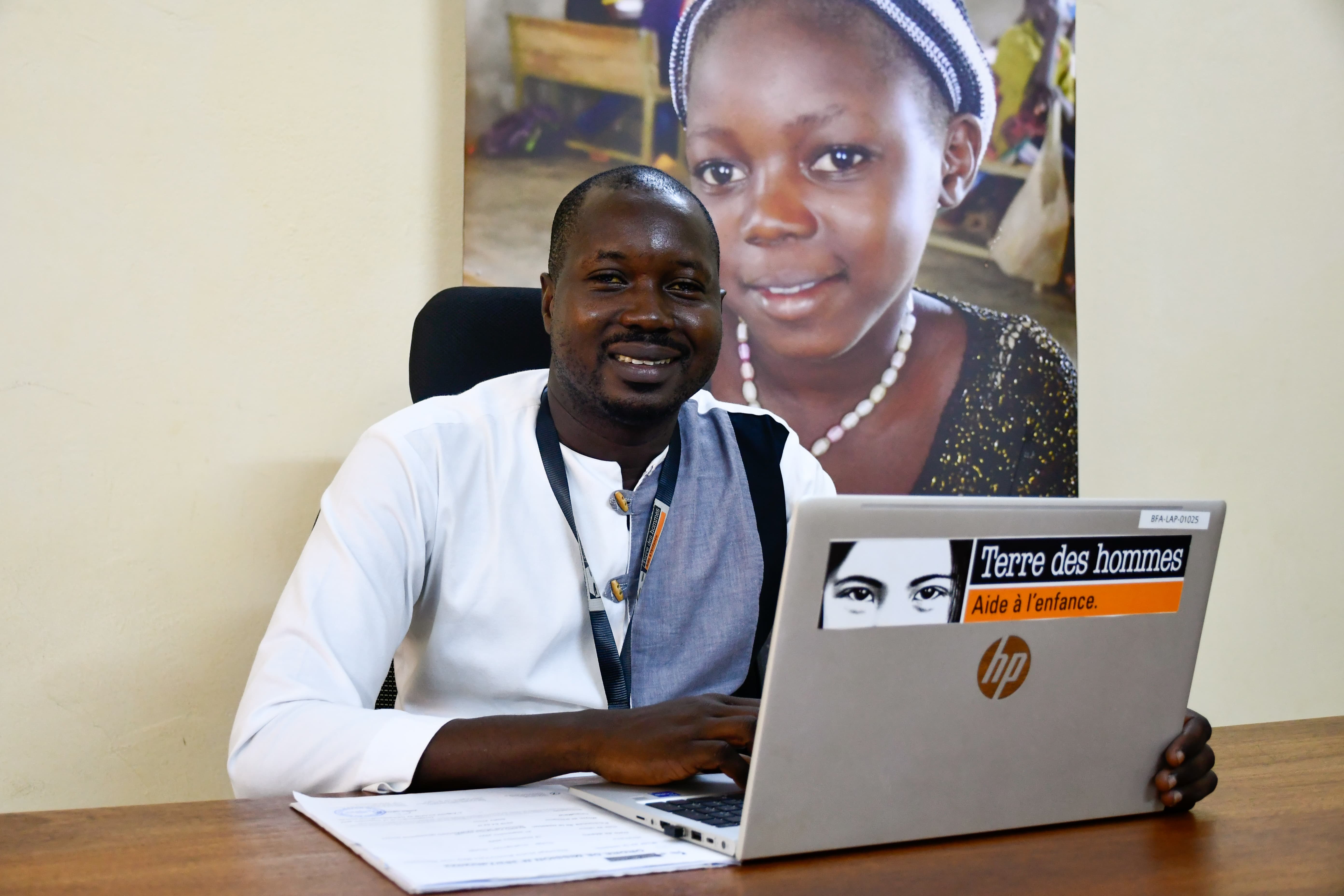 Medical coordinator for the emergency programme
Burkina Faso
"We are helping to cure nine out of ten malnourished children"