IeDA contributes to strengthen the quality of care for newborns, children, and their mothers at primary health care facilities in rural areas in West Africa and in Asia. Through a mobile application on digital tablets, Tdh guides healthcare workers in providing appropriate diagnoses and effective treatments.
Our impact
health centers in Burkina Faso, Mali, Niger, Guinea, and India use IeDA
consultations of children recorded with IeDA
consultations of women recorded with IeDA
The Integrated e-Diagnosis Approach (IeDA) is a digital health solution that supports primary health care workers in West Africa and Asia to improve the quality of care for newborns, children and their mothers. IeDA was initially developed by Tdh and the Burkina Faso Ministry of Health. It has enabled the WHO's Integrated Management of Childhood Illness (IMCI) medical protocol to be digitalized. The data is analysed with a view to improving the quality of care and informing policy-makers. IeDA is now being extended to other countries and to other protocols that guide clinical consultations for pregnant women and newborns. 
A better diagnosis 
What used to be a pilot project in 2010 in one district in Burkina Faso is now a major technological achievement. By the end of 2022, IeDA has been deployed in 86% of all primary health centers in Burkina Faso and in more than 60 health facilities in Mali, Guinea and Niger. IeDA is also deployed in more than 470 healthcare facilities in the district of Jharkhand in India. Thousands of health professionals use IeDA for their daily work performing more than 350,000 consultations every month. This is a major achievement, especially in rural areas, as IeDA contributes to the accurate diagnosis and adequate treatment of diseases of children below 5 years old. Thanks to an extensive network of partnerships, Tdh has enriched IeDA with new features, and now IeDA is available to guide consultations on antenatal and postnatal care, post-abortion care and family planning. It also includes, use of medical instruments to better identify sever symptoms (hypoxemia), interactive web maps and dashboards, the monitoring of early signs of diseases outbreaks and artificial intelligence analyses. 
Data to better understand the local situation 
IeDA is an important source of first-hand information for the national vital statistics. The data collected from over twenty million consultations (last update from April 2023) is analysed and used to improve the quality of healthcare and inform health authorities.
 "There is interoperability with our database, so it allows us to take care of the child and at the same time to collect data for the National Health Information System," says Docteur Assane Ouangaré, Director of Sectoral Statistics, Burkina Faso Ministry of Health. Artificial intelligence makes it possible to control the quality of data entered by health workers and to detect the first signs of epidemics at an early stage. 
Training staff
Through e-learning and digital-assisted supervisions, IeDA also supports the development of knowledge and skills of local health staff in rural areas. "This is another advantage of this approach: it includes coaching and supervision systems based on real time data, and enables us to improve health care workers training, making them more efficient at diagnosing and treating patients," says Florian Triclin, Coordinator for IeDA in Africa. 
Impact 
The goal of IeDA is to make good quality health care sustainable in West Africa and beyond. In Burkina Faso, the London School of Hygiene and Tropical Medicine and the Johns Hopkins School of Public Health undertook several evaluations of IeDA and demonstrated significant improvements in quality of care, a high acceptance of the approach from all levels of the health system and operational cost reduction after basic investments. Health centres equipped with the IeDA tool use it in 90% of consultations for children under five. 
Outlook 
Tdh is supporting local capacity building and development to transfer IeDA to the Ministry of Health of Burkina Faso so that the country can take full control and direct management of this digital solution. 
Tdh aims at fully integrating its activities on those of local health systems. At the beginning of the projects, there is always a set of workshops with local health authorities to define roles and responsibilities to facilitate the handover to the Ministry of Health, without any interruption of service.
Watch our videos on IeDA for pregnant women and mothers in Burkina Faso and in India
IeDA: Can digital technology save lives in Burkina Faso?
Digital steps towards better care for children in Ranchi - Ieda
We are proud to work on this project with:
Discover external publications on IeDA: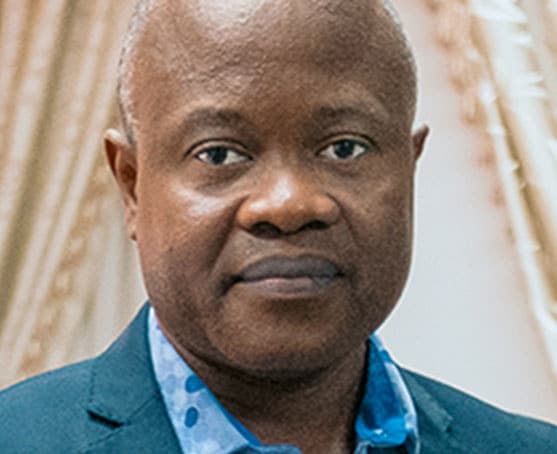 Secretary General for the Ministry of Health of Burkina Faso
"We have drastically reduced the number of incorrect diagnoses thanks to IeDA and the children benefit from better treatment."
Timeline
2011 - Pilot project launched in three districts in Burkina Faso (Yako, Tougan, Séguénéga) with the REC ("Registre Electronique de Consultation" or Digital Patient Record System). This REC 1.0 is used on notebooks.
2014 - REC 2.0 developed and launched in the three pilot districts. The REC is now a mobile application used on a tablet.
2015-2016 - The REC is deployed in more districts to reach 270 clinics.
2016 - E-learning application launched. Health care workers can increase their medical knowledge to better treat patients.
2018 - Version 2.7 is deployed in all centres. The new version will allow streamlining data collection and analysis.
2018 - The alliance ALeDIA is started to integrate malnutrition with childhood illnesses in one tool.
2018 - Burkina Faso's Ministry of Health and Tdh agree on a roadmap to hand over IeDA to Burkina Faso.
2019 - Project started with the Geneva University and Cloudera Foundation to use artificial intelligence to analyse data collected during IeDA consultations.
2020 - A version customised for India is being deployed in Jharkhand state.
2020 - We completed our IeDA approach with the digitalisation of protocols for antenatal, delivery and postnatal care.
2021 - IeDA-maternity is implemented in Burkina Faso and in Guinea.