IeDA strengthens primary health care in rural areas in West Africa and in Asia through innovation: a mobile application on digital tablets improves children's medical treatment thanks to a better diagnosis.
Our impact
children consulted at least once with IeDA since December 2014
clinics in Burkina Faso, Mali, Niger, Guinea and India use IeDA
consultations of children with IeDA recorded
IeDA* is a digital strategy supporting Universal Health Coverage in West Africa and in Asia to save children's lives. This application co-created by Tdh and the Ministry of Health in Burkina Faso has digitalised the WHO medical protocol (IMCI) and guides health personnel to diagnose sick children accurately. Data is analysed to improve the quality of care and inform decision-makers.
A better diagnosis
What used to be a pilot project in 2010 in one district is now a major technological innovation: by the end of 2020, IeDA has been deployed in 86 per cent of all health centres in Burkina Faso, in two health districts in Mali, in Niger and in India. Thousands of health professionals use IeDA and run between 250,000 and 700,000 consultations in Burkina Faso each month. This is a major achievement for the health of children, especially in rural areas: diagnosis and treatment have improved. Thanks to an extensive network of partnerships, Tdh has enriched IeDA with new features, including point of care tests, use of medical instrument like pulse oximeter to better identify sever symptoms (hypoxemia), interactive web maps and dashboards, monitoring early signs of diseases outbreaks, artificial intelligence analyses and perinatal health digitalisation.
Data to help understand the local situation
IeDA is an important source of first-hand information for the national vital statistics. The data collected in the so far more than twelve million consultations (last update from November 2021) are analysed and used to improve the quality of healthcare and inform decision makers. Artificial intelligence allows for quality control of data entered by health workers and for early detection of epidemics.
Training staff
Through e-learning and digital-assisted supervisions, IeDA also develops the competences of local staff in rural areas. "This is another advantage of this product: it includes coaching and supervision systems, and enables us to improve health care workers training, making them more efficient at diagnosing and treating patients," says Thierry Agagliate, project co-founder.
Impact
The goal of IeDA is to make qualitative health care sustainable in West Africa. A London School of Hygiene and Tropical Medicines (LSHTM) evaluation of IeDA showed significant improvements in quality of care, a high acceptance of the approach from all levels of the health system and operational cost reduction after initial investments. In the health centres that have the IeDA tool, there is a 90% usage rate in the consultations of children under five. Results show a reduction of up to 15% of antibiotics prescription and a 50% improvement in adherence to the IMCI protocol when IeDA is used. If scaled up to the whole country, there would be between 750,000 and 1.5 million CHF savings each year.
Outlook
Tdh is preparing the field so that in 2022, the Ministry of Health of Burkina Faso can take full control of the digital solution IeDA and directly manage it.
*IeDA: Integrated e-Diagnostic Approach
We are proud to work on this project with:
Discover external publications on IeDA:
Scientific articles: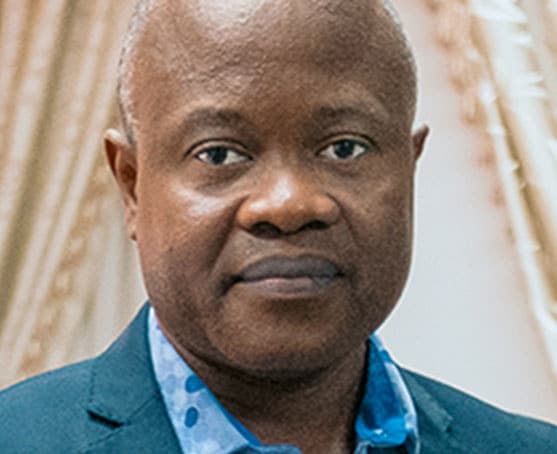 Secretary General for the Ministry of Health of Burkina Faso
"We have drastically reduced the number of incorrect diagnoses thanks to IeDA and the children benefit from better treatment."
Timeline
2011 - Pilot project launched in three districts in Burkina Faso (Yako, Tougan, Séguénéga) with the REC ("Registre Electronique de Consultation" or Digital Patient Record System). This REC 1.0 is used on notebooks.
2014 - REC 2.0 developed and launched in the three pilot districts. The REC is now a mobile application used on a tablet.
2015-2016 - The REC is deployed in more districts to reach 270 clinics.
2016 - E-learning application launched. Health care workers can increase their medical knowledge to better treat patients.
2018 - Version 2.7 is deployed in all centres. The new version will allow streamlining data collection and analysis.
2018 - The alliance ALeDIA is started to integrate malnutrition with childhood illnesses in one tool.
2018 - Burkina Faso's Ministry of Health and Tdh agree on a roadmap to hand over IeDA to Burkina Faso.
2019 - Project started with the Geneva University and Cloudera Foundation to use artificial intelligence to analyse data collected during IeDA consultations.
2020 - A version customised for India is being deployed in Jharkhand state.
2020 - We completed our IeDA approach with the digitalization of protocols for antenatal, delivery and postnatal care.
2021 - IeDA-maternity is implemented in Burkina Faso and in Guinea.